Carson River Basin
July 1994
Summer Convective Storm Event
An intense summer convective storm hit the east side of Carson Valley on July 22, 1994 and resulted in flash flooding down several alluvial fan drainages in the Johnson Lane area and Buckeye Wash. To date the only recorded precipitation amounts are from the Fish Springs gage (located on the east side of Carson Valley) with 0.37 inches reported and 0.38 inches reported by a Johnson Lane observer. The thunder storm cells were very localized; therefore, the measured precipitation data may under represent the total storm amounts for the Johnson Wash flood.
Selected Streamflow Peaks
| Site ID | Gaging Station | Peak (cubic feet per second) |
| --- | --- | --- |
| 1030909087 | Johnson Wash at Fremont Drive near Minden, Nev. | 1,400 |
Photos
No photos available.
Video
Johnson Wash in Carson Valley (30 second video clip).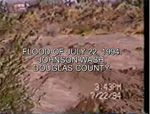 MPEG (3.1 Mb) || QuickTime (2.8 Mb)

QuickTime player may be downloaded for free at http://www.apple.com/quicktime/download
QuickTime and the QuickTime Logo are trademarks of Apple Computer, Inc., registered in the U.S. and other countries. The Get QuickTime Badge is a trademark of Apple Computer Inc., used with permission.