Carson River Basin
December 1955
Rain/Rain-on-Snow Event
During an unseasonably warm period, several days of intense rainstorms partially melted the snowpack. Ten to 13 inches of rain fell in the headwater basin and the snow level reached 8,500 feet in elevation. The National Weather Service Minden precipitation gage (4,709 ft) recorded over 6 inches of rain during the storm period. Damage caused by flooding was severe and included damages to bridges, roads, diversion structures, agricultural land, residences, and loss of livestock. More than 16,000 acres were flooded in Carson Valley, about the same amount as in 1997, and many families were forced to move out when their homes were isolated and flooded. Lutheran Bridge on the East Fork Carson River in Carson Valley collapsed on December 23. Locals nicknamed the December 1955 flood the "Christmas flood."
Selected Streamflow Peaks
| Site ID | Gaging Station | Peak (cubic feet per second) |
| --- | --- | --- |
| 10309000 | East Fork Carson River near Gardnerville, Nev. | 17,600 |
| 10310000 | West Fork Carson River at Woodfords, Calif. | 4,810 |
| 10311000 | Carson River near Carson City, Nev. | 30,000 |
| 10312000 | Carson River at Fort Churchill, Nev. | 11,000 |
Photos
Video
Aerial view of Carson Valley (30 second video clip).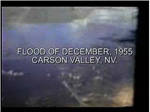 MPEG (2.9 Mb) || QuickTime (3.0 Mb)

QuickTime player may be downloaded for free at http://www.apple.com/quicktime/download
QuickTime and the QuickTime Logo are trademarks of Apple Computer, Inc., registered in the U.S. and other countries. The Get QuickTime Badge is a trademark of Apple Computer Inc., used with permission.